Australia Wagner, Die Walküre: Soloists, Melbourne Opera Orchestra / Anthony Negus (conductor). Ulumbarra Theatre, Bendigo, 26.3.2023. (JPr)
Production:
Director – Suzanne Chaundy
Set design – Andrew Bailey
Lighting designer – Rob Sowinski
Costume designer – Harriet Oxley
Video designer – Chris Hocking
Cast:
Siegmund – James Egglestone
Sieglinde – Lee Abrahmsen
Hunding – Adrian Tamburini
Wotan – Warwick Fyfe
Brünnhilde – Antoinette Halloran
Fricka – Sarah Sweeting
Gerhilde – Rosamund Illing
Ortlinde – Eleanor Greenwood
Waltraute – Jordan Kahler
Schwertleite – Dimity Shepherd
Helmwige – Olivia Cranwell
Siegrune – Naomi Flatman
Grimgerde – Caroline Vercoe
Rossweisse – Sally-Anne Russell
Last year I wrote about Melbourne Opera's Die Walküre, how after 'two rather blighted attempts' at the opera Anthony Negus 'struck (Rhine)gold with this production'. I saw it livestreamed from Melbourne in 2022 and was able to see it thanks to the Australian Digital Concert Hall again during the first of the three Ring cycles in Bendigo. In 2021 at Longborough (where he is music director) Covid required a socially distanced semi-staging and at English National Opera the single performance he was allotted for coaching Richard Jones's dire new production (in their now-defunct Ring) saw and heard the orchestra and some singers at their very best during the Negus-led evening.
Suzanne Chaundy's staging for Melbourne Opera – as I wrote last year – serves Wagner's opera without any confusing directorial intervention. Unashamedly traditional – and what is wrong with that occasionally? Chaundy has written how: 'My challenge is to portray this epic work in a truly affecting way. Too often I feel the real and raw emotions are overlooked in the storytelling for the sake of a concept. Wagner is presenting a massive world of ideas that I embrace, rather than reduce to the world we live in. Our scale of design is epic and we have adopted a deeply detailed performance style to interrogate every dramatic moment.' Chaundy's Walküre reinforced an ongoing connection between what we are seeing from her with certain Rings of the past which I discussed in my Das Rheingold review (here).
When writing about Rheingold I hinted that it felt longer than its near-standard 150 minutes but what a difference two days made as Anthony Negus conducted a turbocharged Walküre as if this opera is perceived as the 'scherzo' of the Ring and not the next one, Siegfried. With a running time of 3½ hours, clearly it was only an hour longer than Rheingold, and it was definitely quicker than some. Supported by the Melbourne Opera Orchestra – paying much better than in Rheingold – Negus conducted a magnificent Walküre and it brought back memories of when it was performed in Cardiff in 1984 conducted by Negus's mentor, Reginald Goodall, who also let rip then and eschewed his previous rather measured approach.
It was comforting to revisit Andrew Bailey's Act I set with the hut we always hope for. It is strewn with fallen leaves and on the dais at the centre is an extravagant tree (with its too-obvious sword, Nothung, jutting out the bottom of it). The tree rose through a large circle (ring?) in the roof which we recognise as the platform from Rheingold, and I suspect we will see again during the remaining two operas of Chaundy's Ring. At the start of the second act most of the tree is pulled up and away and the platform lowers for Wagner's 'wild rocky place' with the tree's twisted bole emerging through the hole at the centre. Everything you need for the opening of Walküre is there so that the long-parted twins Siegmund and Sieglinde can reunite and begin their incestuous relationship and Siegmund can confront her knife-wielding husband, Hunding. There is a hearth, a large table and chairs for the meal and a stand where Sieglinde prepares it and shows her drugging Hunding's drink. Good use of video (from Chris Hocking) is another feature of Chaundy's staging and it began with a dark, threatening sky accompanying the opening bars depicting Siegmund's desperate flight (though mostly we saw Negus conducting in the pit). This alternated during with opera with a skyscape with the sun shining through clouds.
Throughout this Walküre Wagner's intentions are almost scrupulously adhered to; 'mead' is actually poured; the sword is spotlit in the tree (though it is too obvious most of the time); light shines in as Siegmund and Sieglinde – who look a little more alike than they sometimes can – express their love for each other; and the curtain falls just before they consummate it. Harriet Oxley's costumes have a cosy familiarity to them, and Siegmund even has his wolfskin! There is an odd exception but, as before, there is a naturalness to the acting in Act I which you do not always see.
Act II sees Wotan with straggly hair and greying beard and a patch over his missing left eye. His daughter, Brünnhilde, even has a hint of a breastplate and chain mail in her silvery costume, along with a headpiece, spear and shield. Fricka (with the image at the back of a gathering storm) demands the twins be punished for adultery and incest and has a blinged-up Norma Desmond look about her with the coiled Medusa-like snakes on a turban headband. Fricka, like Wotan, was in a haute couture creation with a metallic sheen reflecting myriad colours, hers was a gown and his an overcoat.
When Wotan embraced Brünnhilde we appreciated how much he loves her but he is conflicted over preventing the gods' downfall and is determined she obeys him. When Hunding catches up with Siegmund there is a credible fight between the two of them and before Siegmund can apply the coup de grâce, Wotan 'magics' the breaking of Nothung (which just about happened in this performance) and Hunding stabs him. As he dies, Siegmund reaches out and appears to recognise Wotan as his father, Wälse, who reclaims the wolfskin for himself.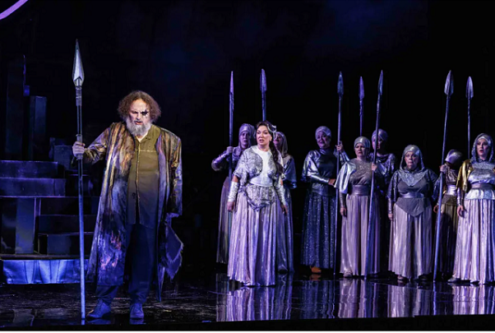 At the start of the final act, Negus conjures from his orchestra another exciting 'Ride of the Valkyries' and the two aerial artists rocking back and forth on sway poles – as their 'horses' gallop through the clouds – receive a smattering of applause from the audience. The Valkyries – who look, well, like Valkyries – gather and prove themselves to be as fine an octet as you are likely to hear. Across the platform are scattered outcrops of Basalt columns with a large central mass in the hole we recognise from before. Little sign of any dead 'heroes' and I noticed only one being tormented as he crossed the stage. There is lightning to match the crackling accompaniment from the 90-strong orchestra as a vengeful Wotan arrives to challenge Brünnhilde about her betrayal since she disobeyed him and tried to save Siegmund. Wotan passes his sentence and while Brünnhilde will lie asleep on the volcanic rock with her head on the wolfskin, he has agreed to her desire to be surrounded with a circle of fire that will protect her from all but the bravest of heroes (Siegfried, the child Sieglinde is carrying). Chaundy and Bailey conjure up a brilliantly realistic conflagration with dry ice that ends their Walküre in the most incandescent way.
A couple of niggles were when Wotan first refers to the mountain Brünnhilde is to be confined on, he gestures out into the audience though it is actually behind him, and – after threatening her again – he is rather too touchy-feely with his daughter as Act III ends.
I was listening to this through loudspeakers, though I hope they faithfully reproduced what was heard in the theatre. James Egglestone impressed again – after his 'Italianate' Loge in Rheingold – as a very intense Siegmund, acting as if he had PTSD-like symptoms due to the travails he recounted. His voice was strong and lyrical; 'Wälse! Wälse! Wo ist dein Schwert?' was ringing and impassioned and he also brought great feeling to 'Winterstürme'. Lee Abrahmsen was, once again, the fervent and passionate Sieglinde who perfectly conveyed her character's distress and longing. Abrahmsen's 'Rettet die Mutter!' ('Save the mother!') and 'O hehrstes Wunder!' were the climax of her performance in more ways than one. The more Abrahmsen sang, the more I wished it was Brünnhilde she had been singing! I admired how Antoinette Halloran launched fearlessly into 'Hojotoho!' – the first of Brünnhilde's several – when she came onto the stage, but it sounded as if she was being sorely tested, and subsequently it was the mezzo-ish parts of the role which she sang better, such as, the same act's Todesverkündigung (Annunciation of Death) and 'War es so schmählich' towards the end of Act III as Brünnhilde insists she doesn't want to be humiliated. Halloran – whose acting also was a little too melodramatic – has a long way to go in this Ring and I will be interested in her journey. Resonant bass Adrian Tamburini personified the surly, intimidating, and abusive Hunding and was one of the better – of the many – I have seen and heard. Sarah Sweeting repeated her shrewish and domineering Fricka from the previous Walküre (and Rheingold) and Wotan was never going to win their argument,
There is little I can add to what I wrote before about Warwick Fyfe's Wotan and, again, like the best of them, the anguish of this Lear-like king of the gods – over the hole he has dug for himself – was heard in his every utterance. Fyfe began his second act monologue with Brünnhilde reflectively and it all gradually built to him giving full value to his despair at 'das Ende': also, rarely has Hunding been dismissed as the act ends with such a hushed, yet chilling' 'Geh!'. In the final scene, despite Fyfe showing the spear-clutching Wotan's desolation at having to banish Brünnhilde, there was palpable forgiveness in his farewell ('Leb wohl, du kühnes, herrliches Kind!').
Jim Pritchard