Spain Shostakovich, The Nose: Teatro Real Chorus and Orchestra / Mark Wigglesworth (conductor). Teatro Real, Madrid, 27.3.2023. (JMI)
Production: 
Director – Barrie Kosky
Sets and lighting – Klaus Grünberg
Costumes – Buki Shiff
Choreography – Otto Pichler
Chorus director – Andrés Máspero
Cast:
Platon Kovalev – Martin Winkler
Barber / Newspaper Manager /Doctor – Alexander Teliga
Praskovia – Ania Jeruc
Police Inspector / Eunuch – Andrei Popov
Nose – Dmitry Ivanchey
Ivan and others – Vasily Efimov
Old Countess – Agnes Zwierko
Dmitri Shostakovich (1906-1975) is one of the most important composers of the twentieth century, but only two of his operas are much performed nowadays: The Nose, one of the first he composed, which was followed by Lady Macbeth from Mtsensk.
A truly strange opera, The Nose saw the light in Saint Petersburg in 1930 but had not reached Teatro Real until now, although it could be seen in Spain on a tour by the Moscow Chamber Opera 1992. The work is based on a short tale by Gogol where the protagonist loses his nose, which then takes on a life of its own. Teatro Real mounted it with great care, both in terms of music and of staging, and has successfully overcome the challenges involved.
This is a co-production of Teatro Real with Covent Garden, Komische Oper Berlin and Opera Australia, under the direction of Barrie Kosky. It premiered in October 2016 in London and was later put on in both Sydney and Berlin.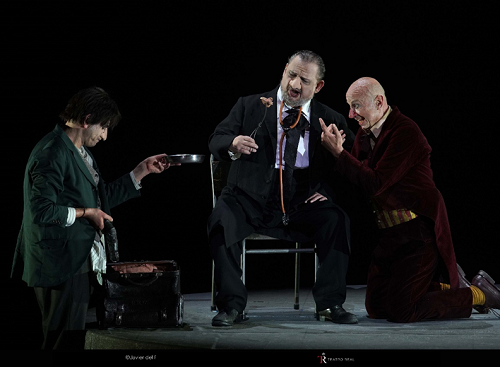 There is no question that Barrie Kosky is one of today's leading directors, and I can say this with even more confidence after having attended his imaginative The Nose. The set is quite simple, with a semicircle to which some props are added in the center: the space is left empty in the crowd scenes, of which there are many. The production has life and joy, and it reflects a wonderful job on the part of the director.
The musical direction was under Mark Wigglesworth, who offered a brilliant reading of an opera that has a lot to conduct. He controlled the pit and stage perfectly and drew a great performance from the orchestra. The same can be said of the chorus.
The vocal cast is possibly the longest of any opera, with many singers doubling and tripling in different parts. In this review, I will refer only to the major roles.
The protagonist is Platon Kovalev: the character who loses his nose. He was interpreted by baritone Martin Winkler, who was outstanding both vocally and on stage. It was a guaranteed success to have counted on him – he had played Kovalev in this production before.
Bass Alexander Teliga did well as the Barber, Doctor and Newspaper Manager, and his voice carried nicely throughout the room. Soprano Ania Jeruc in the part of the Barber's wife was vocally correct and gave a fine performance. Tenor Andrei Popov as the Police Inspector was also good.
The Nose in its independent life was interpreted by Dmitry Ivanchey, and I would highlight his performance. Tenor Vasily Efimov in the part of Ivan and mezzo-soprano Agnes Zwierko as the Old Countess were well-suited to their roles. The remaining parts – more than 50 of them – were all properly covered by 23 singers in total.
The performance added a Presenter, Anne Igarteburu, at the end, who addressed the audience in Spanish.
José M. Irurzun