Posted on: April 11, 2023, 02:01h. 
Last updated on: April 11, 2023, 02:20h.
The Florida Lottery's latest winner is seemingly most deserving of the prize.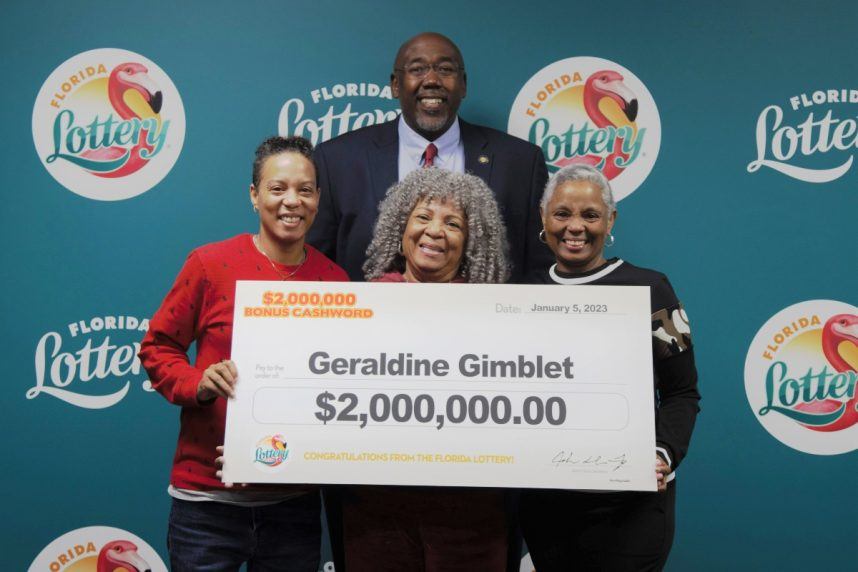 Lottery officials in the Sunshine State announced last week that Geraldine Gimblet of Lakeland claimed a $2 million scratch-off prize. Gimblet's riches came as a result of the lottery's "$2,000,000 Bonus CASHWORD Scratch-Off" game that features eight top prizes of $2 million each and 20 second-tier prizes of $100K. The odds of winning one of the $2 million prizes are one in more than 2.85 million.
Gimblet told the Florida Lottery that she purchased the scratch-off at Pipkin Road Beverage Castle in Lakeland. She said a cashier initially told her that he believed there were no more CASHWORD tickets left to be sold. But after she asked him to double-check, the worker found a remaining ticket.
"I like the crossword games," Gimblet said in a release. "He found the last one."
Gimblet opted for the one-time cash payment of approximately $1,645,000. With Gimblet's $2 million CASHWORD redemption, the Florida Lottery says the game's current print run has three remaining $2 million prizes to award.
Cancer Care
Lottery players across the nation win life-changing prizes daily. But Gimblet's story is unique in that her win came just hours after a momentous life occurrence. Gimblet's daughter told the lottery that her mom spent much of her life savings on her recent breast cancer treatment and care.
The day before my mom bought this ticket, I rang the bell and walked out of the hospital after completing my last treatment for breast cancer," commented Gimblet's daughter, who was not named in the Florida Lottery press release. "My mom had taken out her life savings to take care of me when I was sick. I'm just so happy for her."
Gimblet purchased the ticket on January 5, but redeemed the prize only this month. Top winners of the $2 million CASHWORD can choose the full value of the $2 million advertised prize through 25 annual payments or the one-time cash distribution.
For Gimblet, who chose cash, as is most often the case, her $1.645 million prize will first be subject to a 37% federal tax. That's the highest federal income tax rate that's applied to individual earners who make more than $539,901 in a year, or $647,851 for couples.
The federal tax reduces Gimblet's payout by about $608,650 for a net prize of approximately $1,036,350. That's presumably much more than the amount she spent on covering her daughter's successful breast cancer treatment.
Chasing Expenses
While the Florida Lottery story about a mother spending her life savings on her daughter's cancer care and then winning the lottery is a heartwarming account, responsible gaming advocates caution that some people are more susceptible to irrational gambling when their financial circumstances change drastically in a short period of time.
"Responsible gambling is about using gambling for fun and entertainment's sake. Gambling can become problematic when patrons use it as a source of income or when they gamble with more money than they can afford to lose," Jennifer Shatley, the president of the Nevada Council on Problem Gambling, said in 2020.