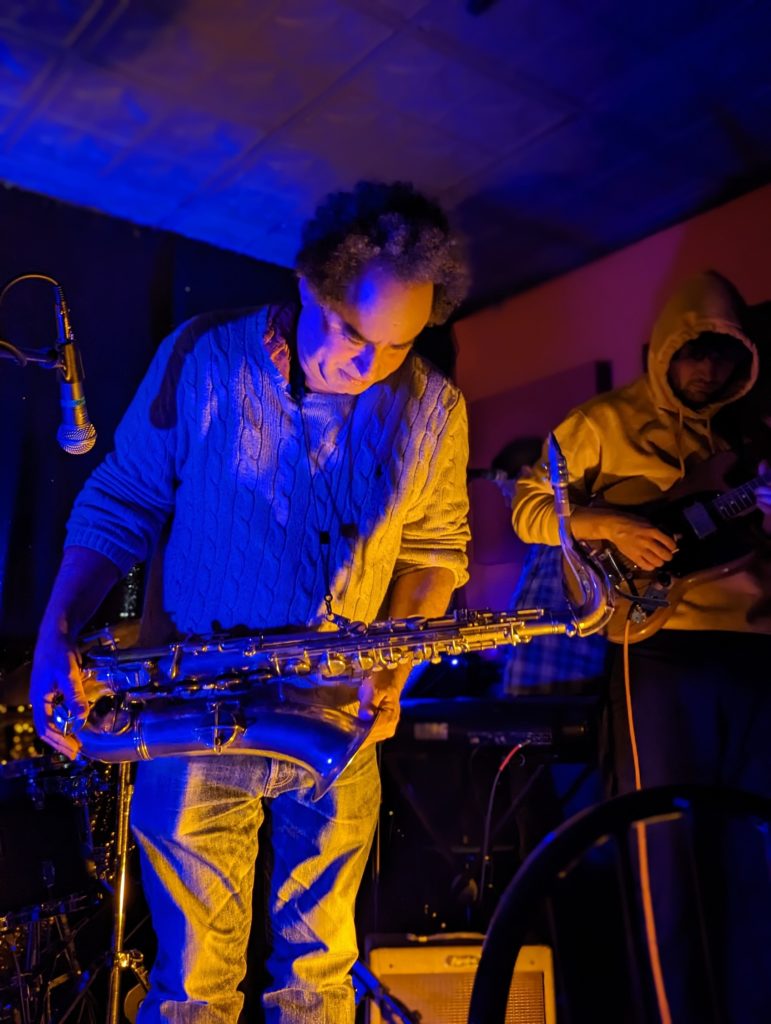 If you are a follower of this site, you do not need an introduction to Garcia Peoples. Collectively the NYCTaper team is responsible for 46% of the GP shows uploaded to the live music archive. The reason we keep coming back is because they keep evolving and this show was a perfect example of that. 
The night started with an over exuberant Tom attempting a left foot crossover move to his wah pedal and falling behind the drum set. Through force of will and sheer determination he maintained peak shred for several more minutes seeing the piece to conclusion. At this point they brought saxophonist Jefry Brown up who sat in for the remainder of the set. What came next was a nearly 20-minute version of GP staple "A Reckoning" but presented in a way I had never heard. The existing structure of the song was replaced by a free jam in D featuring kraut like propulsion covered in freak out sax melts that felt much closer to electric free jazz or something you would hear at a Sunburned Hand Of The Man show then the Indie jam style they are most often associated with. Completely thrilling and the reason we keep coming back. 
You can catch GP playing several Northeast shows this February including two in Boston with Sunburned Hand Of The Man that will surely be can't miss events. New England freaks come out! 
I recorded this from my usual spot by the soundboard with MBHO's and board feed from Tubby's FOH engineer Will. Enjoy! 
Download and stream from the Live Music Archive!
Garcia Peoples
Tubby's
Kingston, NY
2023-01-14
Source: MBHO 440 + SDB > MixPre3 > SD (24/48) > Adobe Audition/izotope > Audacity > FLAC (lvl8)
Recorded and produced by kliked
Thanks to Tubby's FOH engineer Will for the patch!
Head Over Heels Jam
A Reckoning
False Company
Tubby's Jam
Cold Dice
Tough Freaks
Stray Cats
This show featured Jefrey Brown on sax
Support this excellent band:
https://garciapeoples.bandcamp.com
Support the venues bringing you interesting music:
https://www.tubbyskingston.com/music-calendar