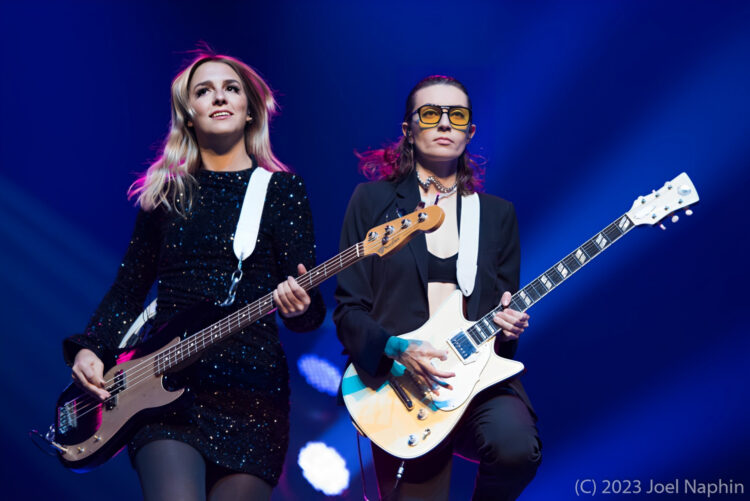 Nearly four months after opening its doors to the public, the OLG Stage at Fallsview Casino hosted a Media Day on Feb. 16 for approximately 100 guests for an inside and behind-the-scenes look at Niagara's newest concert venue.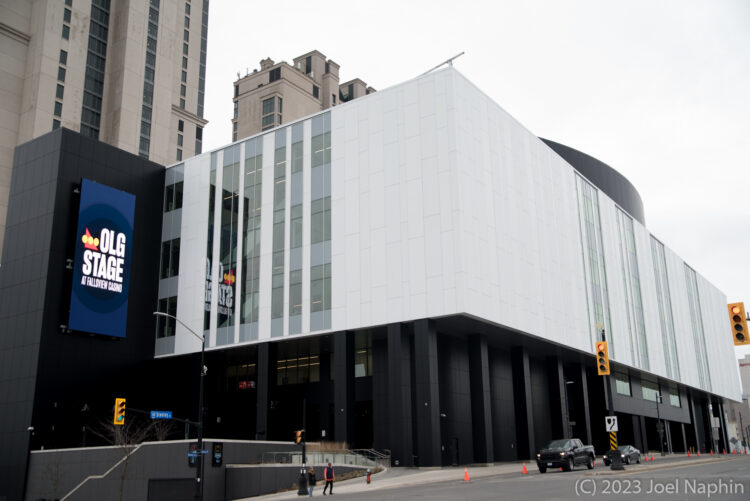 On hand for the tour were officials from OLG, and Fallsview Casino along with designers and architects who helped build the $130 million, 5000-seat state-of-the-art theatre from the ground up.
To show off the stage and sound and lighting system, Toronto's all-female band The Beaches played a set followed by a Q&A with the media.
Media was then divided into two groups and off we went to have a look around the entire building which included an exclusive backstage tour. Check out our gallery below.
The OLG Stage was originally scheduled to open on April 1, 2020, but two weeks prior to the Grand Opening the casino (along with the rest of Ontario and Canada/world) shut down due to Covid-19. When the casino re-opened nearly two years later, the OLG Stage remained closed while Fallsview Casino's other concert venue, The Avalon Ballroom, began hosting concerts in its 1500-seat theatre.
The OLG Stage used this time to fine-tune some operational issues before booking music acts. On October 29, 2022, the doors to the new venue finally opened to the public when  +LIVE+ played a sold-out show.
Other acts who have played the OLG Stage so far include Vanilla Ice, The Lumineers, Michael Bolton, and Don Felder.
This Saturday, February 25, the OLG Stage will have its grand opening with the piano man himself, the legendary Billy Joel! Other musical acts scheduled to play at OLG Stage include Rod Stewart, Bret Michaels, Billy Idol, Pitbull, Cheap Trick, Daughtry, John Fogerty, Kane Brown, Kenny Loggins, and more. Click here for the full lineup and details.
For some fun facts and venue information, scroll down after the photos.
The Venue:
The Beaches – Performance and Q&A:
Overview
• The OLG Stage at Fallsview Casino (OSFC) is an exciting and important new entertainment venue in the City of Niagara Falls.
• Located on the Hilton property, the OSFC features a direct environmentally controlled pedestrian connection to the Fallsview property.
• With exceptional venue features and operational management, the OSFC is a first-class venue that appeals to audiences and a wide variety of artists and their technical crews.
• Private sector capital investment of over $130 million
• Approx. 200,000 square foot venue size
• Top-notch venue acoustics, sound, and lighting systems
• 5,000 total soft-seating capacity; all seats include cup-holders
• Consists of a ground entry level and 4 levels of seating:
o Low Orchestra – 1,100 seats,
o High Orchestra – 1,900 seats,
o Balcony Level 1 – 1,000 seats,
o Balcony Level 2 – 1,000 seats
• No seat greater than 150 feet away from the stage
• Excellent sight lines
• Direct connection to the Fallsview Casino, hotels, restaurants and other amenities via spacious galleria and environmentally controlled pedestrian walkway and bridge:
o entire walkway and bridge feature a consistent gentle slope which negated the need for ramps thus maintaining an unimpeded pathway between properties for easier pedestrian traffic flow
• Designed for audiences of all-ages, OSFC is also a fully AODA accessible venue including T-Loop listening technology
• Throughout the venue, 150 seats (or 3%) are AODA accessible
• 31 dedicated AODA accessible parking spaces directly below the theatre with dedicated elevator access to the entrance level
• Plenty of washrooms available on every level with AODA accessible stalls
• Built to LEED principles (Leadership in Energy and Environmental Design)
• Contemporary architecture – influenced by the Falls – creates a neutral but current and timeless backdrop to featured events
Venue Amenities and Technical Features
• Large, partially covered, exterior entrance plaza complemented with animated exterior lighting and a large LED display
• Large spacious lobbies with generous floor to ceiling windows, also complemented with animated/moving interior lighting elements
• Service bars on all audience levels (both fixed and mobile)
• At over 6,400 square feet, it's the largest stage in the area (127' wide x 51' deep); includes an adjustable proscenium (stage) opening that varies from 24' to 38′ (height) and 63' to 95' (wide)
• Two large 30′ wide by 18′ high HD image magnification screens flanking either side of the stage
• First 9 rows are on a flat floor and consist of removable seats to accommodate a "thrust" stage and alternative seating arrangements.
• Forestage extensions into audience portable seating area is possible
• Balconies include one touch power operated vertical scrims to close of seating when not a full house
• Seats width range from 21" to 24" wide with the majority of seats 22" or greater
• Back of House amenities include:
o Dressing Rooms on dedicated level with security of entertainers in mind
o Tour Offices, Crew Room and a spacious Green Room
• Audio system – House Meyer LYON audio system capable of producing 105dB continuous SPL with peaks of 125dBC
• Fully digital venue including fibre backbone infrastructure to allow for multiple control positions
• 400A and 200A power switches (x13) distributed around the stage and catwalk levels
• Two catwalks in full radius above auditorium ceiling with multiple follow spots
• Rigging capacity from fixed grids is in excess of 100 tons
• Stage deck to underside of fixed stage grid is 85' high
• Fixed forestage grid for easy access
• House lighting rig consisting of LED and moving LED lights
• Powered Live Mix lift can compensate for sitting or standing operators
• Infrastructure to support touring/rental update LED wall
• Spacious and secured covered vehicle entrance for talent buses, trucks, and VIP limos/buses
• Two bay truck loading with two large freight elevators to accommodate movement of show up to the stage level
Design and Construction Facts
• Construction began – October 2017
• Substantial Completion – June 2020
• First Show – October 2022
• Venue features a fan-shaped seating layout that results in a more intimate audience to artists relationship
• Natural floor stones throughout public lobbies
• Approx. 4,000 tons of structural steel (or over 8 million pounds) built essentially on-top of the existing Hilton parking garage – reinforced to accommodate.
• Extensive acoustic panel systems and materials carefully designed and applied to support excellent acoustic performance
• Balconies incorporate sound dampening engineered weight systems to counter effect unwanted floor vibrations
• Venue upper floors actually cantilever over top of the Stanley Avenue sidewalk to make use of as much space as possible to accommodate the facility volume and seating capacity.