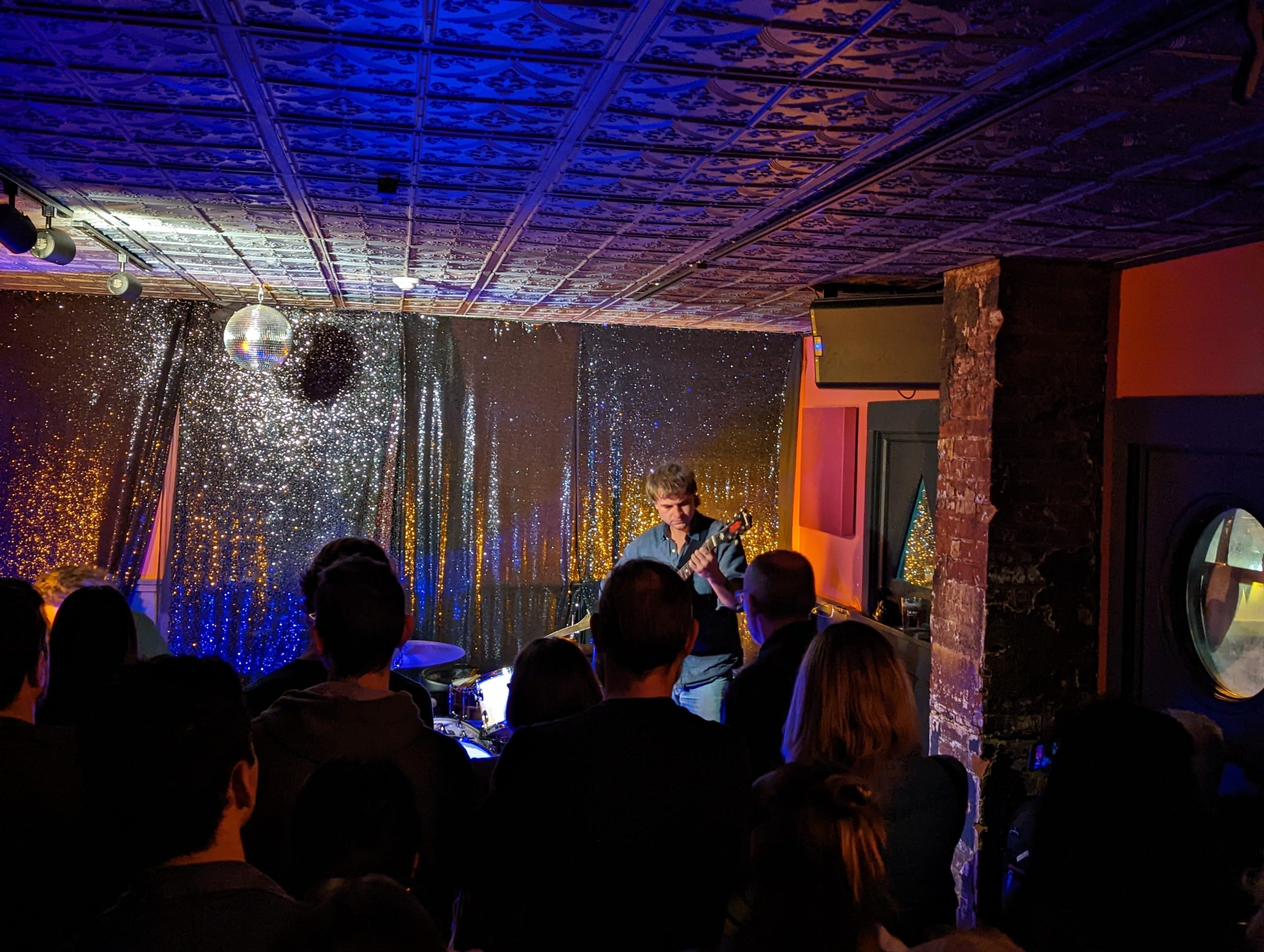 Ryley Walker offers plenty of reasons to see him any chance you can.  His guitar playing ranges from intricate to brain bending, his songwriting is constantly evolving in creative ways and his stage banter is always great. His willingness  to chase creativity and always try something new keeps me coming back.  As he said at the beginning of the night, "We play Avant Garde music!"
The set was billed as the Ryley Walker/JR Bohannon Duo but we were lucky enough to have Ryan Jewel (complete with "Jazz Machine" t-shirt) join for 2 of the 3 improvisational pieces.  The first piece is a beautiful excursion into blissed out guitar and pedal steel zones and Ryan adding drums and percussion to the remaining two.  A case point for seeing music that sits at the edges of rhythm and melody can be found around the ninth minute of the last piece.  From seemingly nowhere they find a groove so sharp Slint would be jealous.  They ride that just long enough to let you know they recognized it and then immediately push past; audience and band both in search of what's next.
I've been reading and following the NYCTaper site as a fan for many years but my first actual contribution was a little over a year ago when AcidJack and I recorded Ryley with the "Course In Fable" band at Tubby's.  It was a nice little anniversary for me to be able to record this set from my usual perch in the back of the room by the sound board.  To really tie the anniversary theme together, I used a set of MBHO 603A/KA200 mics and a clamp borrowed from AcidJack. Tubby's excellent FOH engineer Will provided the board patch. Enjoy!
Stream and download the show from the live music archive!
Ryley Walker/JR Bohannon Duo
2022-11-12
Tubby's
Kingston, NY
Source: MBHO603A/KA200 + SDB > SD MIxPre 3 > SD (24/48) > Adobe Audition/Izotope 9 > Audacity Flac (lvl8) > Mp3Tag
Thanks to Tubby's FOH engineer Will for the board Patch
Intro
Zone 1
Zone 2*
Zone 3*
Ryley Walker – guitar
JR Bohannon – Peddle Steel
*w/ Ryan Jewel – Drums
Support this excellent artist!
Support the venues bringing you interesting music!