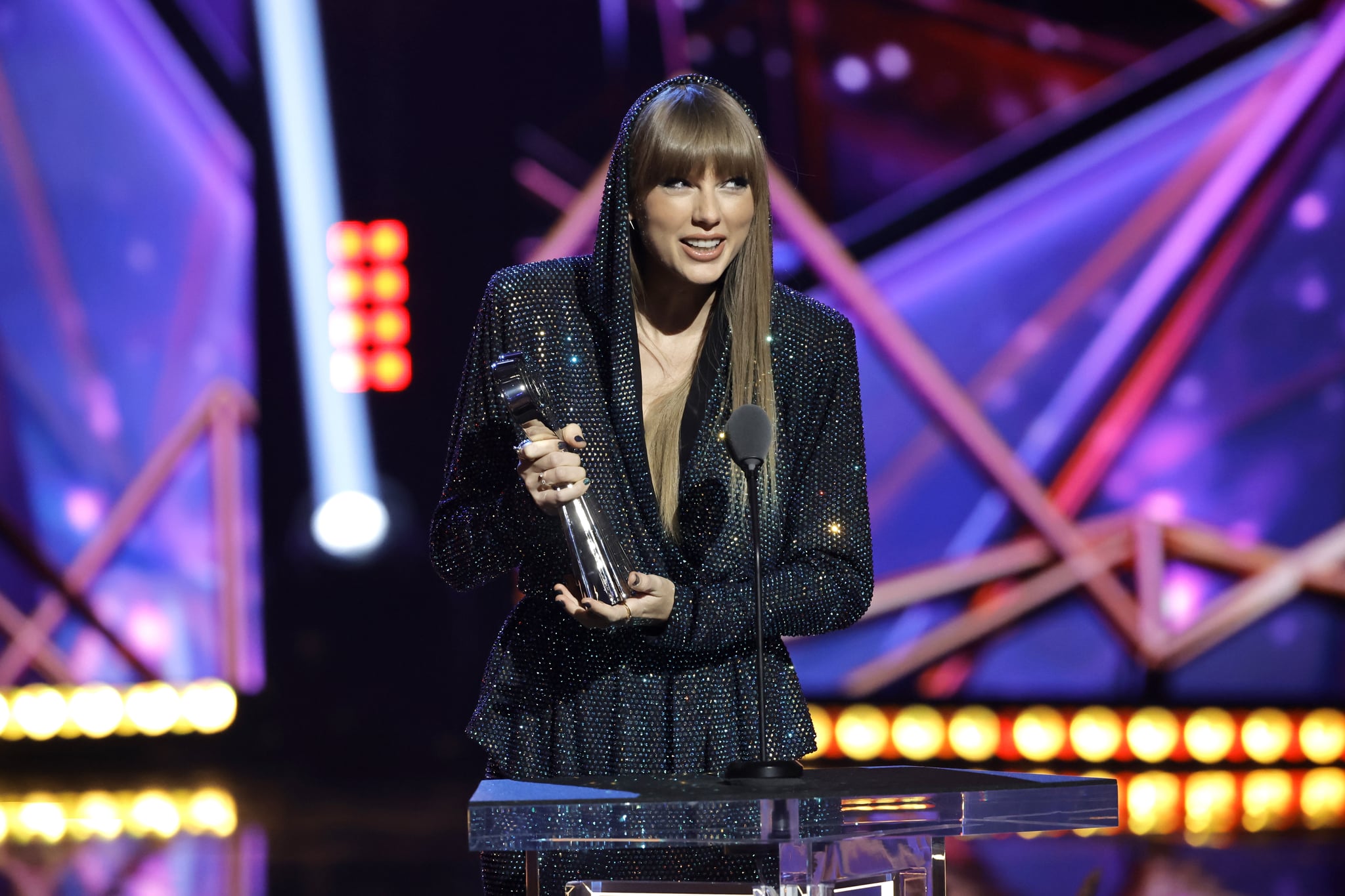 Taylor Swift has a big reputation for being unstoppable, and the iHeartRadio Music Awards just doubled down on that. She was presented with the Innovator Award at the Dolby Theatre in Los Angeles on March 27 and accepted the honor while on a break from her much-anticipated (and Ticketmaster-breaking) Eras tour.
Singer and Swift tourmate Phoebe Bridgers introduced the honoree on Monday night, smiling proudly as she told the audience, "Taylor has always told the truth. She's written songs from exactly where she is . . . I'm grateful that I've grown up in a world with Taylor Swift in it." Following Bridgers's speech, a video compilation of other stars from across Hollywood praising Swift's artistry and skill was played. Some of music's biggest names, including Dolly Parton, Justin Timberlake, Selena Gomez, and Ed Sheeran, were featured. Said Parton to Swift to conclude the clip, "Don't stop doing anything you're doing . . . we wanna keep you around forever."
"I'm really flattered by this award," Swift said when she took the stage. "I never, a single time, and thought, 'You know what I'm gonna do today, I'm gonna go innovate some stuff' . . . but what I did do was try to make the right decision for me at the time, whether or not it had been successfully done before." The "Anti-Hero" singer said that, in general, "People want an example of something working before, but I think the coolest ideas . . . are new ones. The ones that set a new precedent. I'm very privileged because my fans have backed me up."
Swift closed out her speech with a message to her fans and dreamers everywhere. "I really, really want everyone to know — especially young people — that the hundreds or thousands of dumb ideas that I've had are what led me to my good ideas," she said. "You have to give yourself permission to fail. I try as hard as I can not to fail . . . but I do give myself permission to."
Swift was also nominated in several categories at the 2023 iHeartRadio Music Awards, including song of the year, which she won, and best music video.
Keep scrolling for more photos of Swift at the iHeartRadio Music Awards and to watch her innovator acceptance speech.