Finland Wagner, Siegfried: Soloists, Orchestra of the Finnish National Opera / Hannu Lintu (conductor). Finnish National Opera, Helsinki, 24.3.2023. (AA)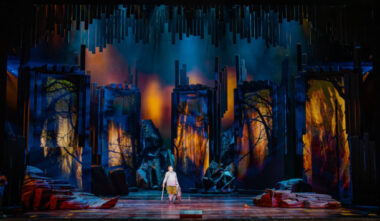 Production:
Director – Anna Kelo
Sets, Lighting and Video design – Mikki Kunttu
Costumes – Erika Turunen
Cast:
Siegfried – Daniel Brenna
Mime – Dan Karlström
The Wanderer – Tommi Hakala
Alberich – Jukka Rasilainen
Fafner – Matti Turunen
Erda – Sari Nordqvist
Brünnhilde – Johanna Rusanen
The Woodbird – Krista Kujala
The Finnish National Opera's Ring moves on to its third part, Siegfried. The tetralogy started in 2019 with Rheingold but was interrupted by the pandemic until 2022 when Walküre was shown.
Director Anna Kelo, set designer Mikki Kunttu and costume designer Erika Turunen have brought the story to modern times, which works out well. Through the piece, the team wishes to reflect the troubled mental landscape of today's age. The setting is simplistic but by no means dull. Mikki Kunttu is a true master of lighting, and he creates magical pictures through changing shades of landscape. Atmospheres shift naturally throughout the storyline.
Chief Conductor Hannu Lintu conducts Wagner with great care and thoughtful insight. Under Lintu's direction, the orchestra is successful both in strong highlights as well as during more intimate moments. At no point were the soloists overrun by the orchestra. Undoubtedly, the orchestra of the FNO was one of the many true heroes of this performance. Hats off!
The story begins in Mime's home, where a minibus made-into a blacksmith shop serves as a place for his various gimmicks. It surrounded by oddities: tools, barrels, rubbish, abandoned hospital equipment – even a home gym!  Mime tries to cope with Siegfried, an isolated bossy kid, he apparently plans to strengthen Siegfried into a peak physical condition. Dan Karlström's Mime is – both vocally and in acting – worth mentioning as he embodies a combination of a sly fox with perpetual motion, and Karlström's voice flows in an agile and effortless manner.
Siegfried was sung by the American Daniel Brenna, an experienced Wagner singer. He has the sensitivity and vulnerability of a juvenile boy, restlessly seeking his roots and a future direction. Questions about his parents bother him the most. Siegfried's 'Wie sah meine Mutter wohl aus?' thanks to the subtle FNO violins is touching.
There is a special bond between the dynamic duo – Siegfried and Mime – they lift weights together and dress alike. In the second act, Siegfried carries Mime to Fafner's cave. In this scene, the stage is dominated by several large-scale monoliths, onto which are first projected nature motifs and, later, as the events progress, a human face gradually turning into a monstrous figure. The dramatic fall of Fafner leaves the viewer speechless.
Krista Kujala appears as a delightful Woodbird. She surprises everybody by wearing rubber boots and having a long, braided hair, but her Woodbird is playful and effortless as only rare spring birds can be. No wonder, Siegfried decides to follow her guidance to find Brünnhilde.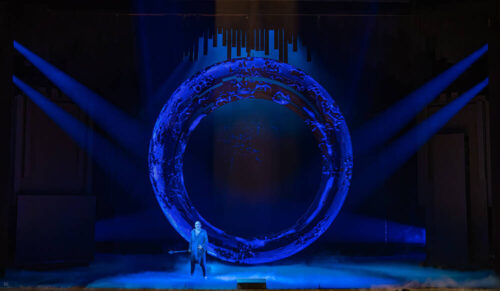 The final act begins with the Wanderer's walk inside a rolling ring figure. His feet are heavy, and the journey seems endless. The role of Wanderer is beautifully sung by Tommi Hakala. His voice is strong, yet intimate, and he succeeds in bringing warmth and emotion to this complex figure. The stunning Erda (Sari Nordqvist) emerges from the depth of the earth to give her verdict. It becomes clear that the end is near for the goods.
Years have passed since Brünnhilde was put to sleep by her father. FNO's Feuerzauber is already familiar from last season's Walküre, but, again, the sea of fire is again a strong culmination point to this performance. There is an obvious connection between the Wanderer's hamster wheel of the first scene and the Feuerzauber circle. As Siegfried discovers that the sleeping figure is a woman, Brenna grows into nothing more than a plausible hero who eventually takes Brünnhilde as his own. In the final moments of the performance, Johanna Rusanen presents herself as a sovereign Wagner heroine. Her singing and presence as Brünnhilde is powerful and intense. The couple embrace and everything seems possible – at least for a while.
Remaining performances of Siegfried are April 11, 14, 17, 22.
Anna Aalto