This guide has the ultimate Lambeau Field parking tips to help you find the right spot at the next Green Bay Packers game or any other events or concerts you attend. As you plan your visit to Wisconsin, it's essential to consider parking options to ensure a smooth experience.
Let us help you find parking spots and facilities in several ways:
official lots
cheaper third-party parking options
free parking
handicap parking near Lambeau Field
public transportation
specific tips that are unique to the Lambeau Field
If you've been to any NFL games in Green Bay or any other events recently, comment below and provide your own tips for others!
Lambeau Field Parking Overview
Lambeau Field is located in Green Bay, Wisconsin and it is the home of the Green Bay Packers. The stadium is located in a residential area, which means that there is limited parking spaces nearby the stadium. Luckily, there is a mix of residential parking options and some public transportation options to help you get to the stadium and back.
You can see an overview of the neighborhood around the stadium from the aerial view below.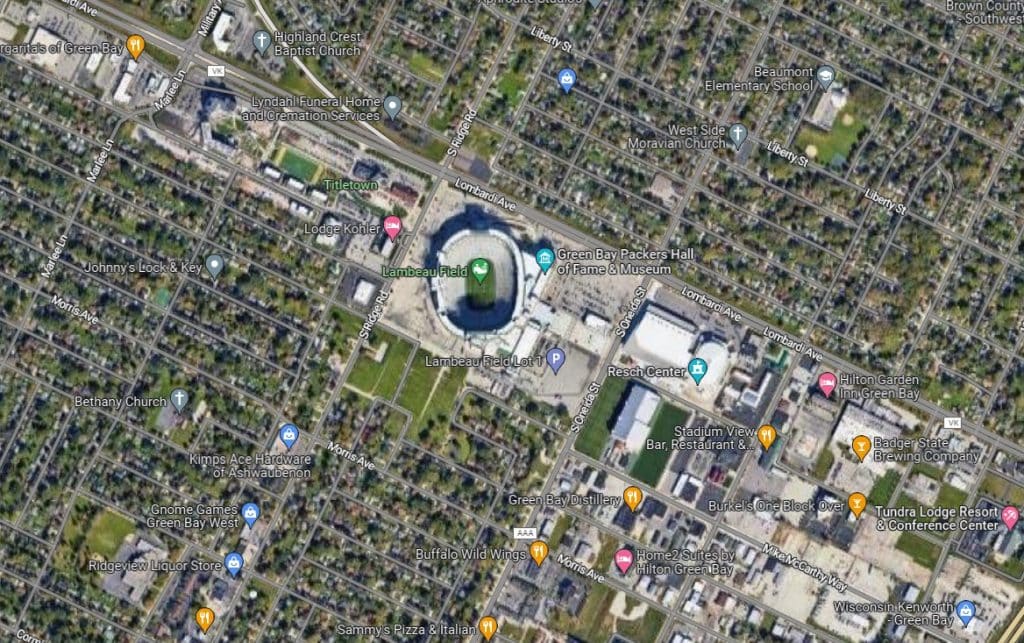 Official Lambeau Field Parking Options
Official Gameday Parking Lots
There are 17 official parking lots in the immediate vicinity around Lambeau Field. Every single one of these parking spaces are only available to season ticket holders for the Green Bay Packers. The Packers are one of the only teams in North America to sell out the entire stadium with season tickets each year.
If you buy a resell ticket from a season ticket holder, make sure it also includes a transfer of the Lambeau Field parking pass. If it doesn't, you will not be able to park in any of the official lots.
Preferred parking lots typically open four hours before kickoff for Packers games and two hours before the start of other events. Arriving early is recommended, as preferred parking spots are available on a first-come, first-served basis.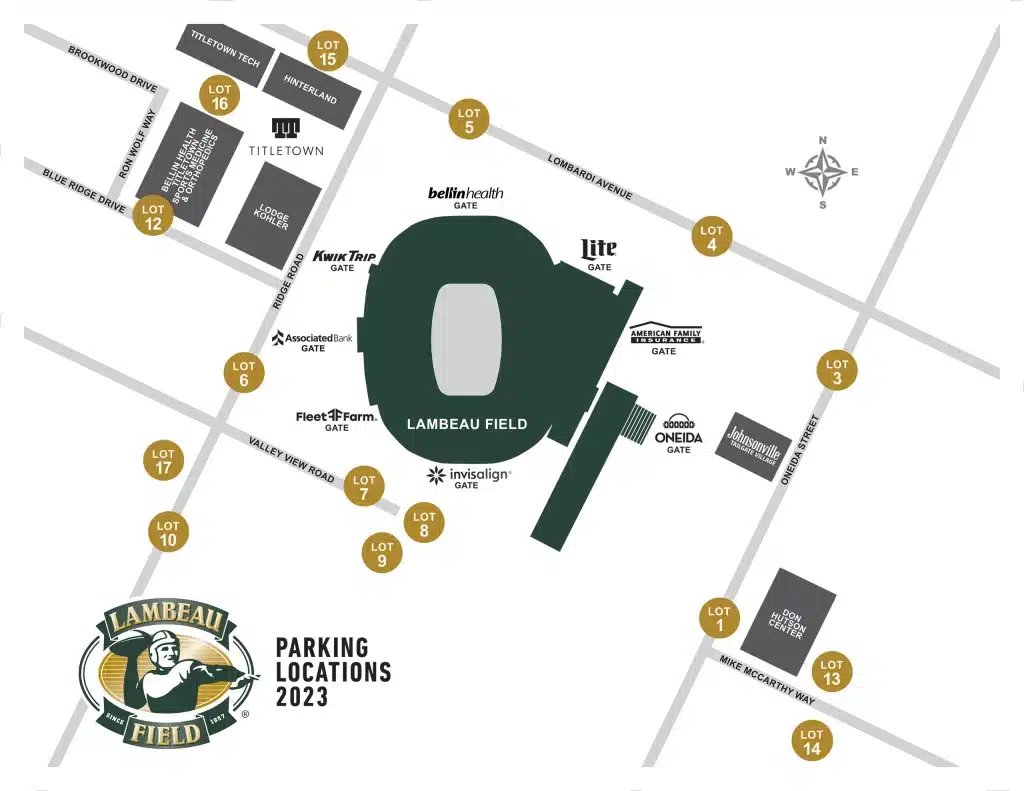 Single-Game Parking
If you don't have a parking pass on the day of the game, you can find a parking space in select spots within:
Lots 10 off of South Ridge Road
Lot 14 off Mike McCarthy Way
Lot 15 off of Lombardi Avenue
Lot 17 off of Valley View Road.
These lots are within a walking distance of about 4 blocks from the stadium. Single gameday parking is around $40, cash only.
General parking spots are available on a first-come, first-served basis, and lots may fill up quickly for high-demand events.
General parking lots also open four hours before kickoff for Packers games and two hours before the start of other events. It's advisable to arrive early to secure a spot and avoid traffic congestion near the stadium.
Make sure to follow all posted signage and directions from parking attendants when entering and exiting the parking lots. Familiarizing yourself with the Lambeau Field parking map before your visit will help you navigate the area more efficiently.
Lambeau Field Handicap Parking
Lambeau Field is committed to providing accessible parking options for visitors with disabilities. Accessible parking spaces are available in Lot 3 off of Oneida Street and in Lot 7 off of Valley View Road.
To use ADA parking, you must have a valid state-issued disability card or plate showing. Pricing for ADA accessible parking areas is typically the same as general parking, and spaces are available on a first-come, first-served basis.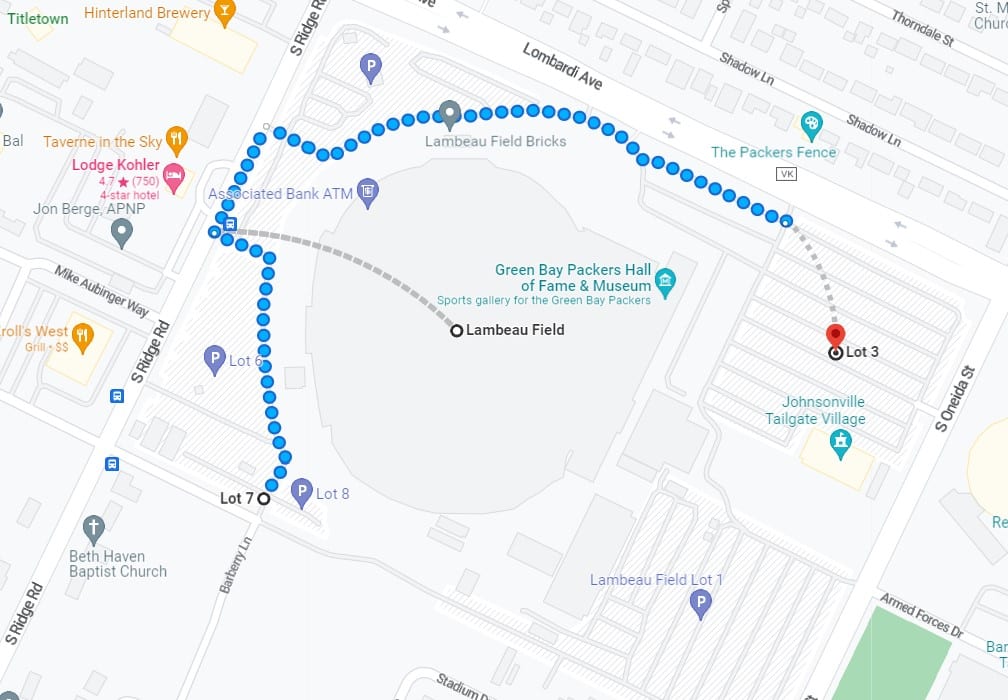 Unofficial Parking Lots Near Lambeau Field
Private Parking Lots
In addition to the official Lambeau Field parking lots, several off-site private parking lots are available in the surrounding area. These lots may offer more affordable parking rates but are usually farther from the stadium.
Use the SpotHero widget below to browse parking spaces for the next event you are going to.
Researching and comparing nearby private lots' pricing, distance, and availability is crucial before deciding on an off-site parking option.
Private House Parking
The extended area around Lambeau Field is filled with private residential houses and many of them offer parking during Packers games. Look at areas around one mile from the stadium for the best residential parking.
This will add a bit of walking, but you can get out easier, and it won't be so congested. Look for parking off of:
Cormier Road
9th Street
Argonne Street
Kassner Driver
South Broadway
Park-and-Ride
Lamers offers park-and-ride options in Green Bay that you can look at called the Lamers Express. This is a school bus that will pick you up and drop you off at area hotels, restaurants, and businesses. There are five different Lamers Express buses:
Green Bay Metro
Green Bay Airport
Appleton Area
Oshkosh
Wausau
You can view a list of the specific businesses that have partnered with Lamers on their official website.
Using these free bus routes can save you time and money while reducing congestion around the stadium. Plus, the cost will always be less than parking close to the stadium. Another advantage is that traffic will be dispersed when you return to your vehicle after the game.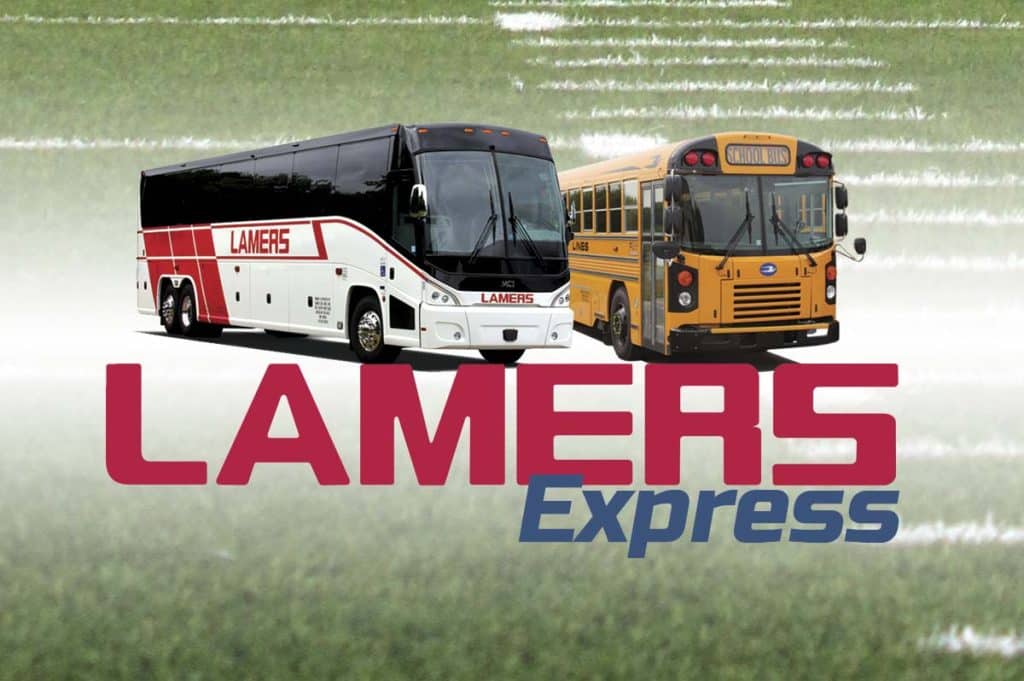 Lambeau Field Events
Use the table below to buy tickets to the Green Bay Packers or other events at the stadium.
| Date | Name | Location | Buy Tickets |
| --- | --- | --- | --- |
Underneath this table are tips for getting free parking at Lambeau Field and specific tips you should know about parking nearby in Green Bay.
Free Parking at Lambeau Field
Although street parking near Lambeau Field is limited, you might find a few free or cheap spots if you search.
Some of the options you can explore for free street parking are:
In and around Skyline Park
Along Kassner Drive (south of Lambeau Field)
Along Biemeret Street (north of Lambeau Field)
Most of these spots are gone long before game time, so don't waste your time arriving late. Be aware of parking restrictions and posted signs to avoid fines and towing.
Finding a street parking spot is more challenging during high-demand events, so you should have an alternative plan. You will pay a premium if you wait until you arrive before you buy any parking passes.
Public Transportation Options
Green Bay Metro
Green Bay Metro offers bus services to Lambeau Field on game days, providing an excellent alternative to driving and parking. Buses run frequently, starting a few hours before the game and continuing until a few hours after the game ends.
Visit the Green Bay Metro website for specific routes, schedules, and fare information.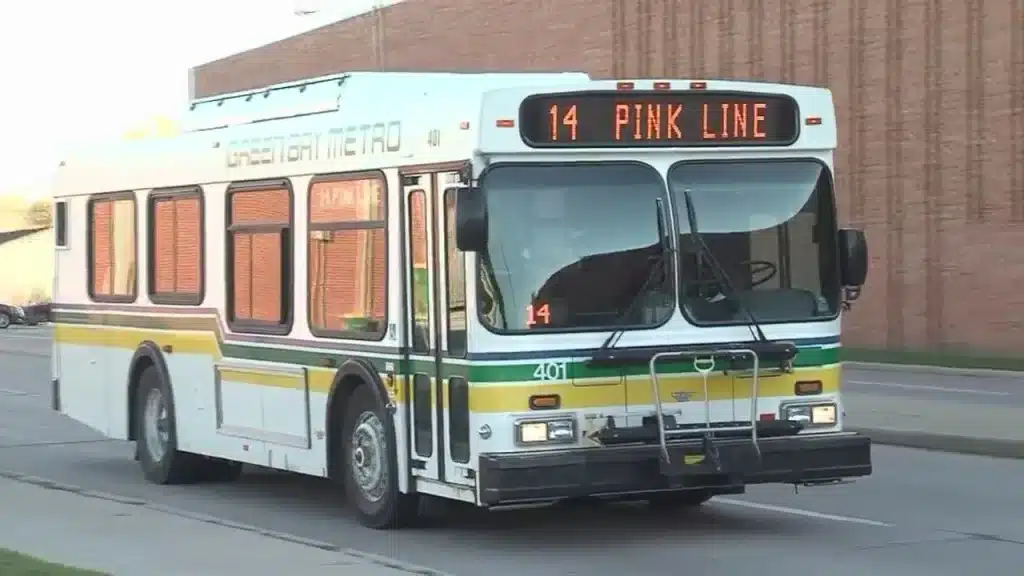 Ride-sharing
Uber is the official ridesharing partner of the Green Bay Packers provides a popular options to consider when planning your transportation to Lambeau Field.
A designated pick-up and drop-off zone is located past Lot 5 in front of Bellin Health Titletown. This is to the northwest of the stadium.
When using ride-sharing services, be sure to confirm your driver's identity and vehicle before getting in the car. Also, remember that high demand during events may result in surge pricing or longer wait times.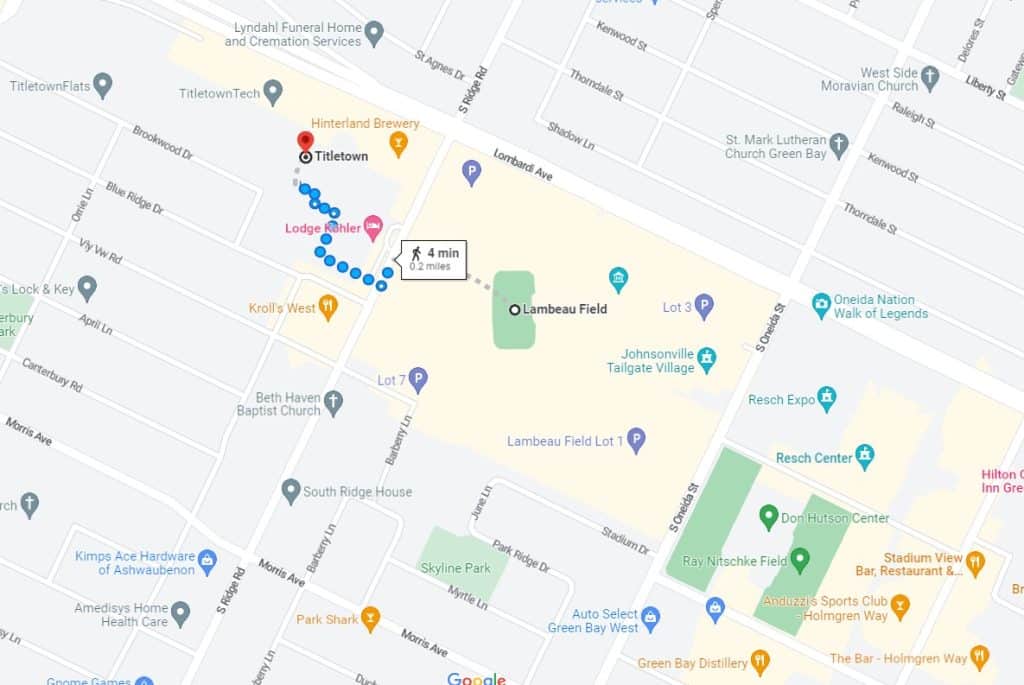 Taxis
Taxis are another transportation option for Lambeau Field visitors. Taxi stands are available on the west side of the stadium because Kroll's restaurant.
Be prepared for potentially long wait times, especially after high-demand events. Knowing the approximate fare and distance to your destination is essential to avoid overpaying for your ride.
Lambeau Field Parking Tips and Tricks
When to Arrive
You can arrive at Lambeau Field up to four hours before kickoff or event time. This is when the Lambeau Field parking lots open, and arriving early ensures you secure a good parking spot and allows time for pre-event activities such as tailgating.
Parking lots remain open for two hours after the end of the game or event.
Tailgating
Tailgating is a popular pre-game activity for many Lambeau Field visitors. Designated tailgating lots, including lots 1 and 2, allow fans to enjoy food, drinks, and games before the event.
To maintain a safe and enjoyable experience, Lambeau Field enforces strict tailgating rules and regulations. Be sure to familiarize yourself with these rules before arriving at the stadium.
Arrive Early
One of the best Lambeau Field parking tips is to arrive early. By getting to the stadium ahead of time, you'll have a better chance of finding a prime parking spot and avoiding heavy traffic. This also gives you ample time to enjoy pre-event activities like tailgating or exploring the stadium grounds.
Carpooling
Carpooling is an excellent way to save money on parking and reduce congestion around the stadium. By sharing a ride with friends or family, you can split the parking cost and minimize your environmental impact. Plus, you'll have the added bonus of enjoying the event with your favorite people.
Using Parking Apps to Reserve Spots
To make your Lambeau Field parking experience even smoother, consider using the SpotHero parking app. This app allows you to reserve and pay for parking spots in advance, ensuring you have a guaranteed space waiting for you when you arrive at the stadium.
Just make sure to double-check the location, pricing, and restrictions before finalizing your reservation.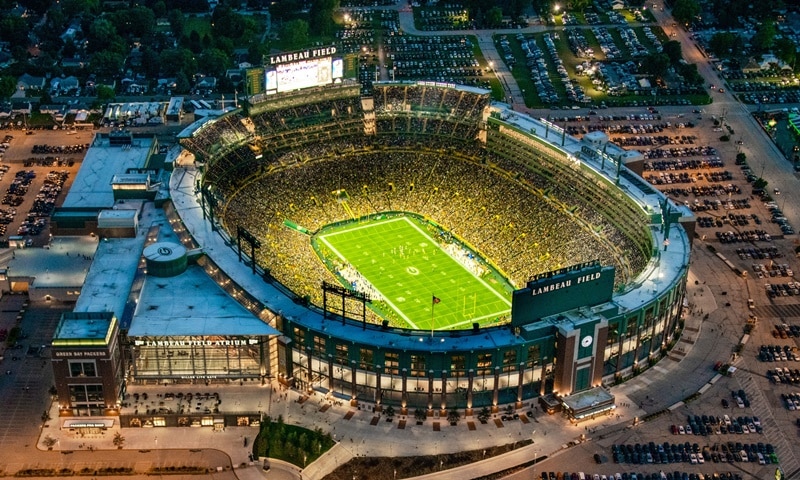 Conclusion
In conclusion, we hope this Lambeau Field parking guide helps you plan your next Packers game or concert. By familiarizing yourself with the various parking options, public transportation, and ride-sharing services, you can find the best game day parking for your needs. Remember to arrive early, carpool when possible, use parking apps to reserve spots, and stay informed about road closures and traffic updates.
Following these Lambeau Field parking tips and tricks will prepare you for a stress-free and enjoyable visit to one of the country's most iconic sports venues.
(Visited 1 times, 1 visits today)